Professor Moriarty has been caught!
Character actor
Jared Harris
(TV's
Mad Men
) has been offered the role in the upcoming
Sherlock Holmes 2
It was first reported by
Latino Review
(and later confirmed by
Deadline
).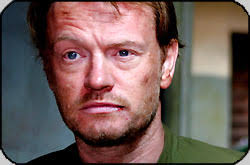 The actor is the son of the legendary son of the legendary
Richard Harris
beat out bigger name actors like
Daniel Day Lewis
,
Russell Crowe
or
Brad Pitt
, who have both been rumoured for the villain role as the film prepped. Harris has acted and won various awards for his work on stage, in television and across many independent and mainstream movies over the past two decades.
Harris joins the returning duo of
Robert Downey Jr.
and
Jude Law
, along with the recent additions to the cast,
Stephen Fry
as Holmes' older brother Mycroft and
Noomi Rapace
.
Guy Ritchie
returns as director with
Dan Lin
,
Joel Silver
,
Susan Downey
and
Lionel Wigram
producing.
The sequel has a Dec. 16, 2011, release date.
Harris actually makes a far better choice than the bigger names so that the role doesn't become small over the actor playing him Was excited by the possibility of Pitt et al but this casting is cooler and serves the film well